One might think that the marketing consultants are making a big fuss about "Conversational Commerce". But the development which is driven by the incredible spread and use of messenger services and the advent of the (chat) bots  should definitely not be missed by retail. And this applies not only to the online but also especially to the brick-and-mortar retail.
The current short study "Conversational Commerce: How the communication between customers and companies influences the distribution success" of the ECC Cologne in cooperation with the provider iAdvize shows how Conversational Commerce will become important in the future.
From Chat on the website to Messenger
The result: Around 57 percent of the interviewees have already communicated online with a company in real time. The tools available on the company website – chat (85% of users) and call-back (39% of users) were by far the most widely used. A little more than every tenth interviewee, who already used personal online customer services, rely on the chat via the Facebook Messenger or WhatsApp.
The chat via messenger services is therefore still very popular among consumers in Germany – but it will be more important in the future: Almost every third respondent states that he will probably be able to chat directly with WhatsApp in the future. In the case of Facebook messengers, this applies to 22 percent of consumers. In addition, according to the respondents who can imagine a use, the proportion of users over 50 years will increase to around 50 percent, so that the target group of the Silver Surfer – internet minded consumers over 50 years – is the focus.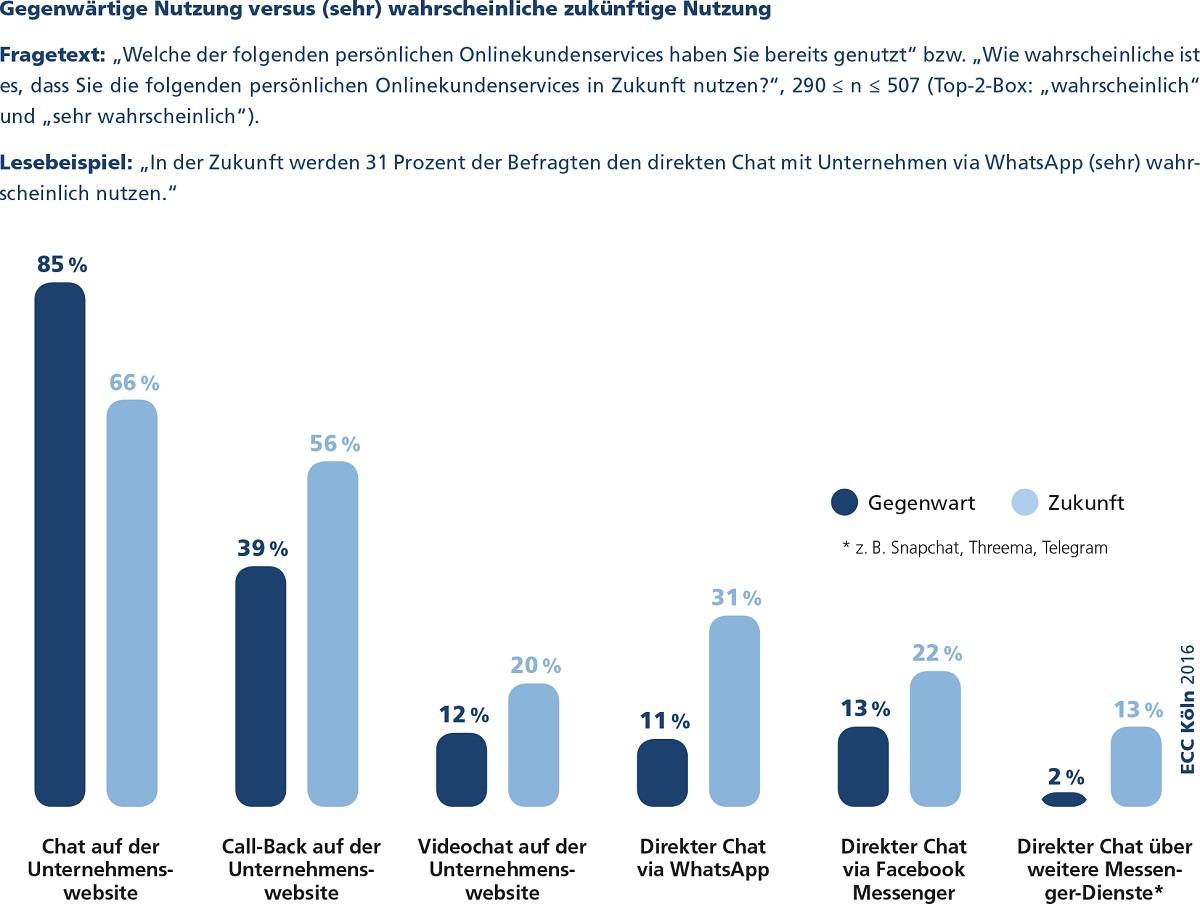 Competence, Speed and Ease of Use
Consumer competency (92%), speed (89%) and ease of service (86%) are of particular importance, when using channels of personal online customer contact. In terms of purchasing power and service-oriented Silver Surfers, the company's services are even higher than the total population.
Personal online customer consultation during and after purchase
During the purchase, personal online customer contact is currently mostly used for technical problems in the online shop, questions about payment or delivery as well as for reasons of time savings (53%) and uncertainties (38%) and can thus have a positive effect on the purchase decision.
But also brick and mortar retailers can support their own salesperson with a digital consulting offer in offering the customers a valuable additional benefit, which affects the purchase decision at the POS.
Chat Bot as a Consultant
In order to offer real-time advice to real customers, real resources are certainly needed. This is not really feasible and useful for all retail traders. However, automated consulting by "intelligent" chat bots, which (autonomously) act, are a cost-effective alternative.How Conversational Commerce can look through a chat bot in the messenger illustrates this animation very well for the purchase of an air ticket.
.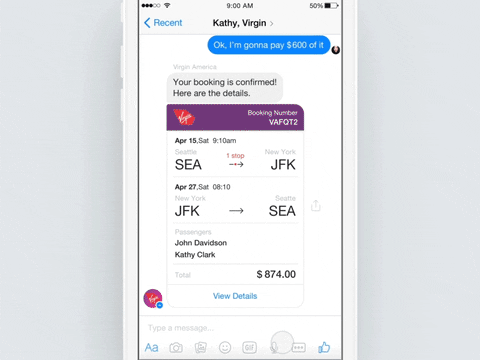 The study of the ECC and iAdvize can be requested here free of charge.